Podcast: Play in new window | Download (Duration: 2:56 — 23.7MB)
By far our most popular gift for Christmas 2009 was Thinking Putty, we sold literally thousands of tins and even had a custom color made for us. As we've used it over the years we've accumulated a few ideas that you may not have thought of yet. If you haven't yet tried burying coins in your Thinking Putty, microwaving it or using it as a rubber thumb, give it a try and then let us know what you think!
Behind The Scenes
This edition was filmed in the warehouse, the office and the office kitchenette.
Nehemiah graciously agreed to come in on a Friday he was to have off, bringing one of his delightful daughters with him. We were thrilled to get her in a shot!
We tried showing each color of Thinking Putty to the camera but with the cheery day we were having and the back-lit approach the colors were too hard to see in most of the shots.
Yes, that is a red Cling-Thing on the fridge, and it held the Thinking Putty cans securely throughout the filming!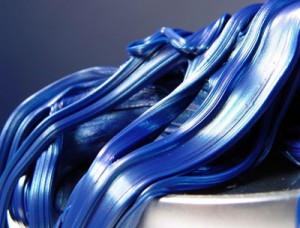 From Our Store
Thinking Putty is Silly Putty but enhanced with knock-your-socks-off colors that shift or morph completely as you squeeze. There are even eye-popping glow-in-the-dark versions that will inspire all sorts of electrifying experiments. All versions of the non-toxic, non-gooey Thinking Putty will bounce, stretch, tear, drip, snap, even shatter. Silicone-based, they will never dry out. But the heat sensitive versions will change colors with the warmth of your hands while the swirled colors will maintain their individual colors no matter how many times they are kneaded… Read More About Thinking Putty and Buy A Different Color For Each Family Member.
Tags: educational, fidget toys, fine-motor, hands on, homeschool, projects, putty, thinking putty, vodcast