Podcast: Play in new window | Download (Duration: 3:42 — 28.4MB)
Foam swords? Really? We were skeptical too, until we saw them in use. Mashoongas are amazing foam sabers built around sturdy polycarbonate core tubes that are both lightweight and flexible. Not merely a fast-paced high-energy contest of attack and self-defense moves, Mashoonga's game rules give it structure, differentiating it from mere horseplay. Mashoonga is a sport that will strengthen your child's tactical skills, their eye-hand coordination, and build their stamina. When the rules are faithfully enforced Mashoonga is a friendly, safe, yet competitive contact game of ancient combat skills.
Ready to buy? Shop http://www.timberdoodle.com/Swords
Behind The Scenes
Talk about funny; shooting this video was absolutely hilarious. Some of us laughed 'til we cried!
Until we replayed the footage, no one could agree who'd won the first few rounds. Daniel did, but only by 1/2 a second.
The interviews were almost as fun as the contest. We now talk about Look of Death around the office.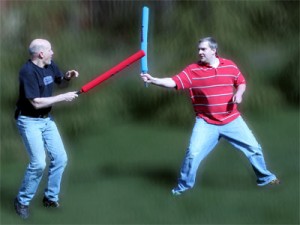 From Our Store:
"Our Mashoonga Sabers Set, surprisingly enough, has been one of our hottest sellers at homeschool conferences. Is this indicative of the stress homeschooling parents feel or the pleasure they anticipate seeing their children off the couch and outside engaged in vigorous play? Or maybe it was because, as one fellow vendor remarked, "I'm tired of getting hit in the knees with a wooden sword…" Buy Mashoonga Now!
Tags: bloopers, conferences, dangerous, educational, exercise, gross motor skills, hands on, highschool, homeschool, homeschooling, New Product, sports