Podcast: Play in new window | Download (Duration: 1:19 — 10.6MB)
Are you looking for something that will enhance all four of your child's fine-motor skills – grasping, reaching, releasing an object, and turning the wrist? Are you searching for a craft project that can be used multiple times to make countless creations? Do you need something quiet and mess-free for the children to do while visiting Grandma? Pop-arty Beads can do all of that and more…
Read more at http://www.Timberdoodle.com/beads
Behind The Scenes
It is exciting to get this episode out, it has been in the cue for way too long!
These girls spent a lot of time playing with the beads, and I think they would have been happy to do it all over again.
The girls were taped during a family reunion. The beads were one of the best activities for allowing the adults to visit while the kids played quietly.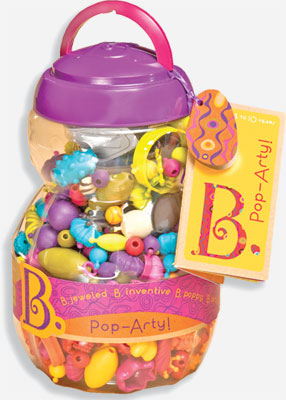 More From Our Store:
"Each Pop-arty Beads collection comes with over 475 of the most eye-catching beads in a wild assortment of shapes, textures, and forms. Luscious solid colors like purple, lime green, pink, blue, orange, and salmon red or marble-like swirls of color give a sophisticated elegance to Battat's B. Pop-Arty Beads and add to the educational value…" Buy Pop-Arty Beads Now!
Tags: art, art projects, construction, educational, fine-motor, hands on, homeschool, homeschooling, New Product, preschool, vodcast