Podcast: Play in new window | Download (Duration: 1:01 — 8.0MB)
Abel shows off the brand new Zoology 2 Notebooking Journal that just arrived in our warehouse from Apologia.
Only $18 at http://www.timberdoodle.com/Zoology_2_Notebooking_Journal_p/288-288.htm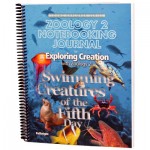 From Our Website:
"You don't need this book.
Really! However, for some of you, the Zoology 2 Notebooking Journal may be the most useful science supplement you can buy, and that is why we are excited to offer it.
How The Young Explorer Series Uses Notebooks
The Young Explorer Series is our favorite science program for young scientists, and with good reason. The Charlotte Mason approach provides lots of information in a readable, engaging format. Lessons are designed to be spread over multiple weeks, with significant portions devoted to hands-on experiments and to notebook keeping…"
Tags: curriculum, educational, homeschool, homeschooling, New Product, Science, Video, vodcast