Podcast: Play in new window | Download (Duration: 1:47 — 14.0MB)
We're finally having summer-like weather here in Washington State. A perfect time to break out our Make Your Own Snowman set!! With its endlessly reusable fake snow and rubbery rehydrated snowballs and cubes, the Make Your Own Snowman World set can provide hours of productive play while your child learns about polymers and polymerization.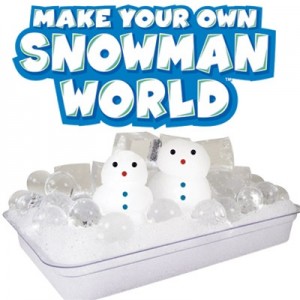 More From Our Store:
"The Make Your Own Snowman World Kit is the easiest way for your family to fashion a frosty delight in the convenience of your own home, regardless of the sweltering temperatures around you. When the sidewalks are too hot for tender feet and the pitifully light breeze has dwindled to nothing, your children will be eager to create snowmen, igloos, and even a shovel full of the most realistic snow your family has ever made…" Buy your kit now, on sale for only $6.95 at this posting!