Podcast: Play in new window | Download (Duration: 1:05 — 8.3MB)
We fell in love with Tolo's Crazy-Eyed Bird Rattle the first time we saw it; but it has been amazing to see how much babies actually enjoy and benefit from this rattle/teether/squeaker toy. From the 4-month-old featured in this video to the toddler we regularly care for, our Tolo Crazy-Eyed Bird gets a lot of loving!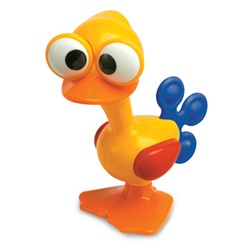 From Timberdoodle's Online Store:
"Partially for baby, partially for you, the Crazy-Eyed Bird is a terrific toy appealing to a wide range of ages! Its lightweight, easy-to-grip body makes a perfect first rattle and its pliable tail is just what a teething baby craves…" Buy the Crazy-Eyed Bird online here, only $7.75 at the time of this post!
Also available as part of Timberdoodle's Complete Core Curriculum for Babies!