Podcast: Play in new window | Download (Duration: 4:11 — 33.6MB)
We've loved Bubber since the first time we touched it, and we're not alone in that – our Bubber tray was a highlight at every conference where we demonstrated it. But sometimes it is easy to think you've exhausted all possible uses for a non-drying art manipulative.  If you've ever thought that way about Bubber I'm sure you'll enjoy seeing all these new ideas using Plaster of Paris from our local discount store. We cast a footprint, nameplate and fake thumb – but truly the possibilities are endless.
Behind The Scenes
Abel is known in our local fire department for his fast-paced movements and boundless energy. We can't wait to show our friends the end of the video as he cleans the Bubber. Of course, it is on fast-forward, but we think they'll feel it is the most accurate depiction of him they've seen! Looking for more ideas? We ran out of time to show all of ours. What about using a jar to mold dishes for your daughter to decorate and use for pretend tea parties? If you have a human body model, recast organs and let your student paint/label them. Footprints don't have to be limited to small feet either – use Bubber to cast footprints of family pets or even those realistic tigers in your toy box!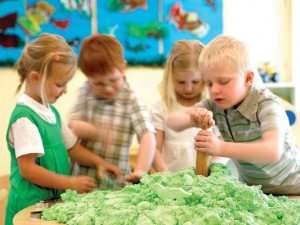 From Our Store
Bubber is an amazing new product imported from Sweden; contrary to its playful name, Bubber is destined to become a workhorse in the educational market. Bubber is an excellent source for tactile stimulation, improving gross- and fine-motor skills in a satisfyingly gentle way… Read More About Bubber Or Buy Some Here.