Podcast: Play in new window | Download (Duration: 2:49 — 22.9MB)
That's easy-Timberdoodle's has to be the best homeschool video contest! Not just because it's ours either. Where else would you find this combination?
Well over $575 in prizes.
Giant prizes of up to $325 in Timberdoodle Gift Certificates.
A generous $10 gift certificate just for entering.
Bonus miniature Thinking Putty free when you redeem your $10 gift certificate.
An opportunity to show off your favorite homeschool tools, techniques, or just have fun making a movie as a family.
Here are all the details: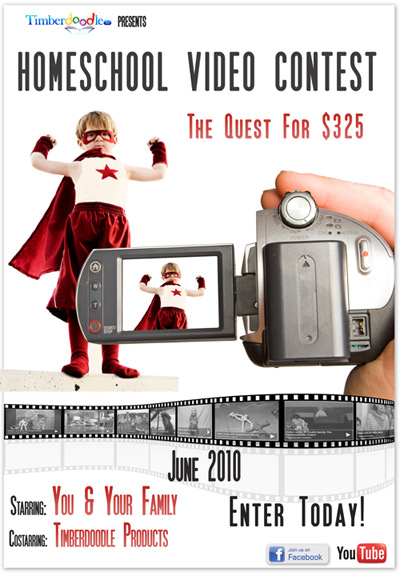 Step One – Today through June 14th
Make a Video
Make a video that mentions Timberdoodle and post it on YouTube or your favorite online video site. Most importantly, fill out this simple entry form, giving us the link to your video. Entries must be received by June 14th to be eligible for the contest!
Step Two – June 16th to June 21st
Vote
Come back and browse all the videos on this page and vote for your favorites (including your own, of course) by commenting on each video. Send family and friends a link to your video so they can vote. They love you, so they'll vote for you–right? Again, every comment on a video counts as a vote, and the three videos with the most votes will win.
Step Three – June 22nd to September 1st
Spend Your Money
Shop Timberdoodle.com to cash in your gift certificate!
The fine print?
No cash value on any of the certificates.
Only one certificate may be used per order.
Qualifying orders must be $10 minimum. (Since $10 is the minimum amount you'll win, this clause is to keep our records from showing that we owe you $1.75 cash after you receive your $8.25 item for free!)
Eligible Videos:
1. Are family-friendly
2. Refer to Timberdoodle clearly in the video
3. Feature a Timberdoodle product, service, or curriculum
4. Use outside media legally (music, video clips, etc…)
5. Are submitted online before 6/14/2010
By participating in this contest, you agree to abide by Timberdoodle's decision regarding the winners of this contest and to give Timberdoodle the right to use your video in any way they choose.