Podcast: Play in new window | Download (Duration: 1:44 — 14.2MB)
If you're looking for a ball for your little person, you've probably seen Oballs. With their characteristic loophole appearance you may have wondered what the point is. Not only do the loops make it easier for babies/toddlers to grip and catch, but you can also use Oballs for such wonderful things as blowing bubbles! Flexible, dishwasher safe, rugged, safe and long-lasting, we are sure you'll be delighted with Rhino Oballs!
Available at excellent prices here: http://www.timberdoodle.com/oball
All Oballs: Exceptionally Safe and Durable
Made of silicone, the Oballs are exceptionally durable; just pop them in your dishwasher when the need arises. Also, you'll be relieved to know that Oballs contain no phthalates, PVC or latex.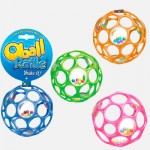 The Oball Rattle
Oball Rattle, with its many finger holes, is just as easy to clutch and roll as the Original Oball. The soft texture is still just right for mouthing, but it also includes entertaining beads that rattle. This lets you help your baby develop his visual and auditory tracking skills. Babies find the bright colors, happy sounds, and squishy sides captivating. Plus it is extremely lightweight, so you never need to worry about a face shot from a rambunctious toddler! (Another oustanding component in the Timberdoodle Core Curriculum series!)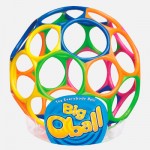 Big Oball
6″ in diameter, the Big Oball has bigger circles, bigger holes, bigger ball, bigger action. Everything about the Big Oball is bigger.
Yet it is just as smooth and shiny and just as indestructible as the Original Oball. Kick it, stomp it, crush it, and the Big Oball bounces right back to a perfectly formed sphere. (Another oustanding component in the Timberdoodle Core Curriculum series!)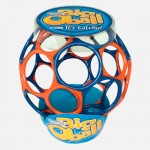 Really Big Oball
A huge 7.5″ in diameter, this is the biggest Oball available. Use it for outdoor games with your preschooler, the easiest ball to catch for your toddler or anything else you would use a typical ball for.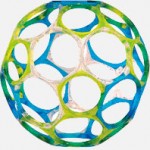 Oball Jelly, A Colorful, Sparkly Ball
All the great Oball features are now available in the colorful sparkly Oball Jelly. Oball Jellies are full of finger holes that make them incredibly easy to catch, captivating to hold, and safe to throw. Shiny, smooth, flexible, durable and virtually indestructible — Oball Jelly is the ideal ball in every situation.