Podcast: Play in new window | Download (Duration: 2:14 — 17.5MB)
The Learning Tower claims to hold 500 lbs, so Abel & Nehemiah take it to the warehouse to test that claim. (It passes.) What a great way to safely get your little helpers up high enough to see and help!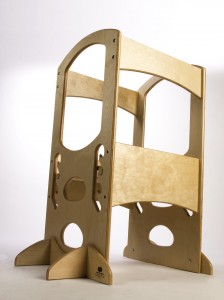 Little Partners Learning Tower – Because It's More Than a Kitchen
It's not just a kitchen. It is their chemistry laboratory, their home economics department, their art studio, as well as the neonatal unit for bathing their baby dolls. And they want to be able to fully use it without standing chin held high on tiptoes or wobbling on daddy's office chair.
It's Where the Real Action Happens
Schoolbooks may be in the library, but the real action happens in the kitchen. Now your toddlers can be a part of it with the Little Partners Learning Tower. Designed for children 18 months to 6 years old, the platform can be quickly adjusted as they grow to enable children at any stage to be at the right height to ensure their safety. The Learning Tower, with its well-built, non-tip construction, is easy for even the youngest walker to climb into. Read the rest on our website at Timberdoodle.com here.