Podcast: Play in new window | Download (Duration: 1:20 — 10.6MB)
We've already demonstrated that Citiblocs are a terrifically simple construction set, but have you considered all the possibilities for deconstruction as well? In this video you'll see that part of our warehouse team had a lot of fun demonstrating how Hot Rocketz can be used to knock down Citibloc towers! (Hint: This is a great family reunion or large group activity.) We apologize for the technical difficulties this week; thanks for bearing with us!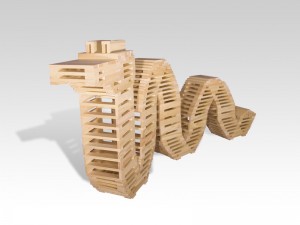 From Our Store:
"If you agree with the sentiments of Albert Einstein, that "Everything should be made as simple as possible," and you long to fill your home with uncomplicated toys that require no batteries and make no noise, other than the ear pleasing clatter of wood against wood, then you're in for a treat…" Buy CitiBlocs Now Here!