Podcast: Play in new window | Download (Duration: 1:00 — 8.2MB)
Puzzles are a vital part of any toddler's education, but what if your puzzle did more? The P'kolino Bug Puzzle offers the additional benefit of having interchangeable pieces. This means that your little one will be motivated to assemble and reassemble the puzzle resulting in improved hand-eye coordination and strengthened manual dexterity, along with all the thinking skills a challenge like this will give.
P'kolino's Multi-Solution Bug Puzzle's smooth wooden pieces are a delight to handle and the bold graphic design means that every finished puzzle is a whimsical work of art. For children 18 months and older.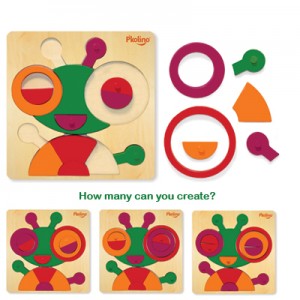 More From Our Store:
"What shall it be today? Will we mix or match the antennas? Match the mouth to the legs? Have solid or multicolored eyes? Brightly colored P'kolino Multi-Solution Bug Shape Puzzle offers your child those options and more…" Buy Your Bug Puzzle Now!